About Me
I love code. I love problem solving. And I love the Web.
That's why I love being a web developer. I've been working with computers and the Web for over a decade, and I have a bachelor's degree in computer science and a professional certificate in web development.
I have years of experience developing websites using cutting-edge technology, working both in teams and alone for a client.
And I have a number of skills (read about my web development expertise). Aside from my ninja status in the web development arena, I can also play the violin and hang a bear bag in the backcountry (but, sorry, I can't stand on my head).
I love getting out and experiencing new things. After college, I joined the Peace Corps, eventually being placed as an Information Communication Technology Volunteer in rural Kenya. In 2011, I backpacked the spine of the Appalachian Mountains from Georgia to Maine. Between semesters in college and high school, I worked on dude ranches and a summer camp in the mountains of Colorado and Georgia, getting to know the people and the area.
And did I mention that I love coding?
Education
Boston University Center for Digital Imaging Arts
Professional Certificate in Web Development
January 2012 - September 2012
Waltham, Massachusetts
Birmingham-Southern College
Bachelor of Science in Computer Science
August 2004 - May 2008
Birmingham, Alabama
Professional Experience
Detailed descriptions of responsiblities can be found on my print resume or LinkedIn.
JNJ Mobile
Web Developer
September 2012 - May 2015
Boston, Massachusetts
ForwardJump Marketing
Contract Web Developer
May 2012 - September 2012
Boston, Massachusetts
Peace Corps
Information Communication Technology Specialist
November 2008 - December 2010
Kithimani, Kenya
AIG Baker
Contract Web Developer
January 2008 - March 2008
Birmingham, Alabama
Other Experience
Yeilding Chapel at Birmingham-Southern College
Chapel Intern
September 2006 - May 2008
Birmingham, Alabama
Drowsy Water Ranch
Cook/Dishwasher
Summer 2005, 2006, and 2007
Granby, Colorado
Alabama Environmental Council
Recycling Assistant
October 2005 - May 2006
Birmingham, Alabama
Smith Fork Ranch
Housekeeper
Summer 2005
Crawford, Colorado
Woodruff Scout Reservation
Assistant Nature Director/Nature Instructor
Summer 2003 and 2004
Blairsville, Georgia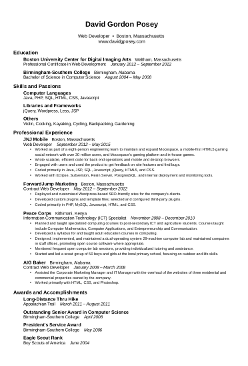 view my resume»
Skills and Passions
Web Development
I am skilled in a number of languages, libraries, and frameworks, including:
Java
PHP
SQL
HTML
CSS
Javascript
jQuery
Wordpress
Less
JSP
Others
Violin
Cooking
Kayaking
Cycling
Backpacking
Gardening
Awards and Accomplishments
Long-Distance Thru Hike
Appalachian Trail
March 2011 - August 2011
Outstanding Senior Award in Computer Science
Birmingham-Southern College
April 2008
President's Service Award
Birmingham-Southern College
May 2006
Alpha Lambda Delta and Phi Eta Sigma Initiation
Birmingham-Southern College
May 2005
Eagle Scout Rank
Boy Scouts of America
June 2004